India and Greece, with their rich historical legacies, are poised to embark on a new era of relations that extends beyond ancient civilizations. This article explores the multifaceted dimensions of India-Greece relations, encompassing defense, economic cooperation, energy, security, tourism, and trade. It also examines the significance of these ties in the context of the Indo-Pacific region and global dynamics. Throughout this discussion, the Observer Research Foundation (ORF) provides insights into the evolving landscape of India-Greece relations.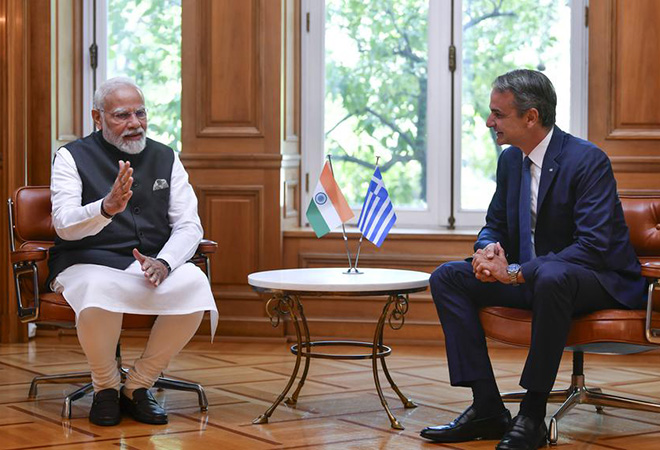 Defense and Security Cooperation:
Defense and security cooperation between India and Greece have gained prominence, reflecting shared interests in regional stability and maritime security. The ORF highlights the importance of collaborative efforts in addressing common challenges.
Economic Synergy:
India and Greece offer economic opportunities in sectors such as energy and trade. The ORF underscores the potential for mutually beneficial partnerships that drive economic growth and prosperity.
Energy Collaboration:
Energy collaboration, including renewable energy and natural gas exploration, holds promise for both nations. The ORF emphasizes the significance of sustainable energy solutions and their contribution to energy security.
Boosting Tourism:
Tourism serves as a bridge between India and Greece, with historical and cultural attractions drawing visitors from both countries. The ORF acknowledges the role of tourism in fostering people-to-peopleties.
The Indo-Pacific Context:
India-Greece relations have implications for the broader Indo-Pacific region, aligning with the region's evolving dynamics and the need for strategic partnerships.
Conclusion:
The ancient civilizations of India and Greece are forging contemporary ties that encompass defense, economics, energy, security, tourism, and trade. The Observer Research Foundation (ORF) highlights the importance of nurturing these multifaceted relations in the Indo-Pacific context and their potential to contribute to regional stability and prosperity. As both nations navigate the challenges and opportunities of the modern world, informed analysis and collaborative efforts are essential for realizing the full potential of India-Greece relations. The ORF remains committed to providing insights that contribute to a deeper understanding of these evolving partnerships.