Considering how showers for bathrooms are used frequently more than once per day, it is important to choose the right shower for your luxurious bathroom in Nepal. Therefore, it is important to consider the demands and requirements while purchasing a new shower.
Smooth structure, good functionality, and classic and modern design features are all present in contemporary shower systems. It is important to keep in mind that the shower system's usefulness is somewhat influenced by the design.
The ideal shower type to install in your bathroom is a crucial decision to make when considering bathroom ideas for a makeover or a total overhaul. You can determine which sort of shower is best suited for your home by reading the article below, which explains the main categories of showers that are available.
The shower head, faucet, fixed seat, shower pipe, hand shower, and shower hose are the essential components of a shower, and they are all integrated to form a whole system. Your shower operates efficiently thanks to additional components like valves and drains. We'll take a closer look at each of these shower component pieces in this article to help you understand what they are and what they do.
Shower Heads
It is a plumbing component, primarily made of steel, connected to water pipes by a hose. It's one of the shower's most prominent and frequently used components. There are many different shapes for shower heads, including standard round, rectangular, and square. When a shower head malfunctions, replacing it is simple. Shower heads can be fixed or portable.
Shower Faucets
Temperature and water flow are managed by the shower faucet. Levers, knobs, and crosses are a few examples of frequent handle designs. Moreover, it has a pressure balancer or scald guard that guards against burn hazards caused by an abrupt drop in cold temperature. For control of both the tub and the shower in shower systems with a tub, a faucet with a diverter is required.
Hand Shower and Shower Hose
Handheld shower heads frequently employ shower hoses. They come in various lengths and can be made of metal or PVC. To ensure better resistance to kinks, they might be strengthened. Additionally, it can link a tankless water heater and your shower head.
A shower head can be fixed or handheld, as was before mentioned. The user's hands are given control over the showering process using the handheld shower heads. It also includes the essential components, including the faucet, the hose, and the flow-controlling valve. It enables parents to wash or rinse their children's hair while preventing soap from getting on their faces.
Digital Shower
This is the type of shower to choose if you want an intelligent showering experience. You can choose from a variety of spray patterns or pre-set the temperature and speed of the water. They also have a shower head and a diverter for blending hot and cold water. The diverter box, however, can be put just about anywhere, even outside the room.
When designing a shower for a small bathroom, these shower types are useful. You might turn on the water at your favorite temperature before using the restroom because it has wireless control. Every family member can choose their favorite flow and heat option, including
refreshing, soothing, relaxing, and powerful, thanks to the programmable settings.
With its built-in, preconfigured hydrotherapies, the Kohler Anthem digital control elevates the showering experience. Each immersive adventure is intended to improve individual wellbeing through focused experiences that can be soothing, energizing, or provide a sense of transcendence.
Top-Mount Shower Heads
These shower head types, which are also known as rain showers, are typically placed right over the bather's head for a superb soaking experience. These shower head varieties can also be suspended from a pendant or a flush mount attached to your ceiling. Top-mount shower heads, on the other hand, require significant plumbing changes in contrast to normal shower heads, which can be readily replaced. The options range from standard rain shower heads with just one spray pattern to extravagant models with coloured illumination and several adjustable nozzles.
Matte Black Showers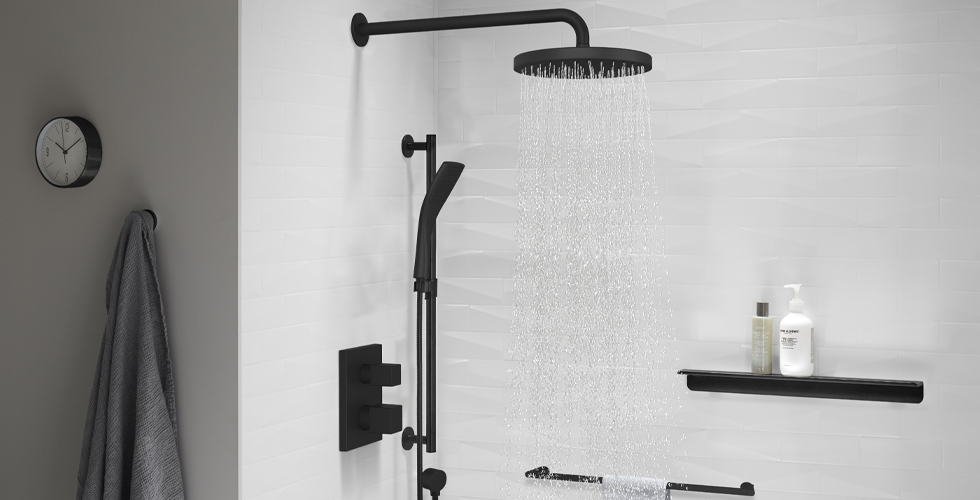 Black is always in fashion. Every bathroom benefits from its enchanting, fascinating, and elegant presence. However, Matte Black is more than just a drama production company. Additionally, the ease of the user must be prioritized above all else. Explore a world of opulent darkness that elevates contemporary design. For a bold bathing experience, incorporate this edgy and macho finish in modern showers.
Final Takeaway
You might wish to take a bath now and again to unwind after a hard day at work. A person who is clean is healthy. You must therefore have a kohler bathroom shower designed specifically for you in order to ensure a pleasant bathing experience. Fortunately, Kohler has what you're looking for. Visit npkohlercampaign.com and explore the extensive range of showers & bathroom accessories in Nepal.