As the nation prepares to celebrate its independence, there's no better way to mark the occasion than by indulging in a touch of elegance and tradition. House Of Kari, the quintessential destination for Chikankari aficionados, has something truly special in store for this Independence Day – a captivating Chikankari outfit sale that promises to redefine your style quotient. Let's dive into the world of intricate craftsmanship, timeless designs, and unbeatable deals that await you at House Of Kari's Independence Day Special Sale.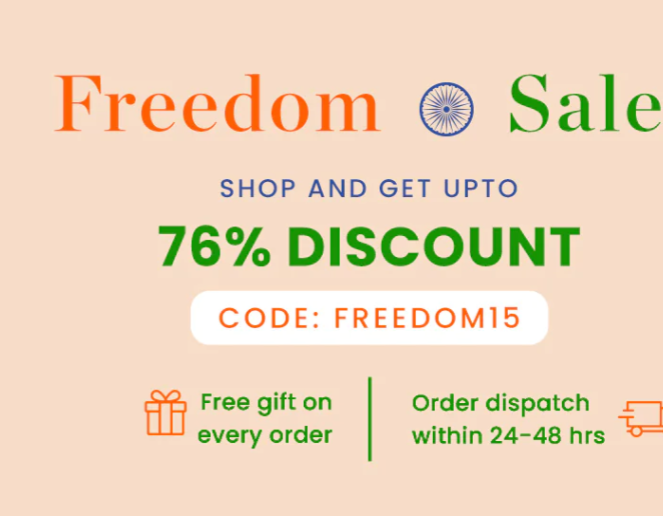 Embrace Chikankari Elegance
Chikankari, a revered form of embroidery that has been cherished for generations, holds within its threads a tale of artistic excellence and cultural heritage. This Independence Day, House Of Kari invites you to embrace the artistry of Chikankari through its exquisite collection of outfits that pay homage to both tradition and modern fashion.
Chikankari Long Kurtas for Women: A Symphony of Grace
For women seeking an ensemble that seamlessly blends grace with contemporary appeal, our Chikankari long kurtas stand as the epitome of sophistication. Crafted with intricate hand-embroidery, these kurtas capture the essence of tradition while offering a canvas for self-expression. Adorn yourself in a Saffron Chikankari long kurta and, adorned with delicate patterns in white and Green, embodying the colors of our nation.
Short Kurtas for Women: Effortless Chic
When it comes to celebrating freedom with style, our collection of Chikankari short kurtas has you covered. These versatile pieces effortlessly combine comfort and chic, making them perfect for a casual yet elegant Independence Day look. Opt for a saffron short kurta with intricate Chikankari motifs, and pair it with white palazzo pants for a striking ensemble that captures the spirit of the occasion.
Chikankari Kurta for Men: Refinement Redefined
Men, too, can revel in the allure of Chikankari craftsmanship. Our Chikankari kurtas for men reflect a harmonious fusion of tradition and contemporary fashion. Choose a navy blue Chikankari kurta embellished with intricate threadwork, and pair it with white trousers for an ensemble that exudes sophistication and pride.
Chikankari Dresses: Where Tradition Meets Glamour
Chikankari isn't limited to kurtas alone; our collection also features captivating Chikankari dresses that capture the essence of elegance and glamour. Indulge in a pristine white Chikankari dress adorned with intricate motifs, embodying the spirit of unity and celebration that Independence Day signifies.
Unlock Unmissable Savings
As you immerse yourself in the world of Chikankari splendor, House Of Kari presents an exclusive opportunity to acquire these exquisite Chikankari outfits at prices that celebrate your sense of style and the spirit of freedom. Our Independence Day Special Sale brings forth discounts that reach up to 50% off on selected Chikankari outfits, allowing you to elevate your wardrobe without compromising on elegance.
Conclusion: Celebrate Freedom in Style
This Independence Day, let your attire resonate with the essence of freedom, unity, and cultural heritage. House Of Kari's Chikankari outfits provide you with a canvas to express your patriotism through fashion while indulging in the timeless beauty of intricate hand-embroidery. As you partake in our Independence Day Special Sale, you not only embrace elegance but also celebrate the rich tapestry of our nation's journey. Come, be a part of the Chikankari tradition, and adorn yourself in sophistication and style, courtesy of House Of Kari.