The season of Rakhi is upon us, a time to celebrate the cherished bond between siblings. As you search for that perfect Rakhi Special gift, allow us to introduce you to a realm of elegance and tradition – Chikankari outfits from House Of Kari. This Rakhi, transcend the ordinary and gift something truly extraordinary that not only adorns your loved ones but also etches memories that last a lifetime.
Chikankari: An Artistry that Speaks of Love:
Chikankari, an age-old embroidery artistry hailing from the heart of India, Lucknow, is a treasure trove of delicate stitches and intricate patterns. House Of Kari, true to its essence, brings you a mesmerizing collection of Chikankari outfits that are not just garments but intricate expressions of love and heritage. Each stitch is a testament to the artisans' skill and devotion, making every Chikankari kurta and ensemble a masterpiece of its own.
Elevating Rakhi Gifting: The Chikankari Touch:
This Rakhi, go beyond the conventional and embrace the art of Chikankari gifting. Imagine presenting your brother with a Chikankari kurta, meticulously hand-embroidered with timeless motifs. This gift isn't just clothing; it's a symbol of your bond, a fusion of tradition and style that perfectly resonates with the essence of Rakhi.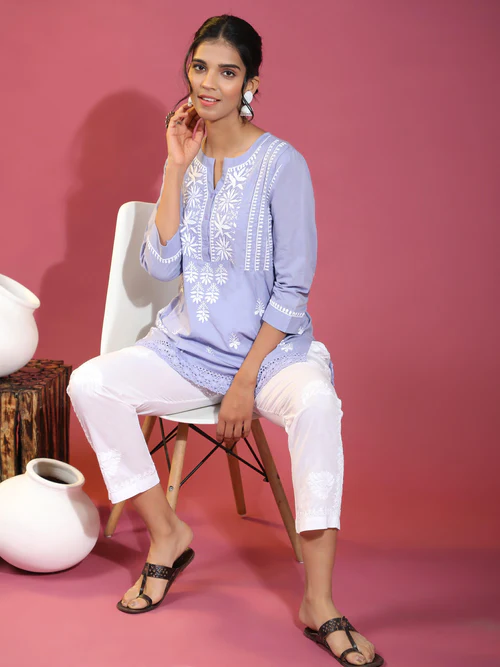 Chikankari Long Kurtas: Elegance Redefined:
For your brother, a Chikankari long kurta embodies the essence of timeless elegance. The intricate threadwork adds a touch of sophistication, while the comfortable silhouette ensures he can wear it with pride throughout the Rakhi festivities. Whether it's the Rakhi thread or the threads of Chikankari, both symbolize an unbreakable bond.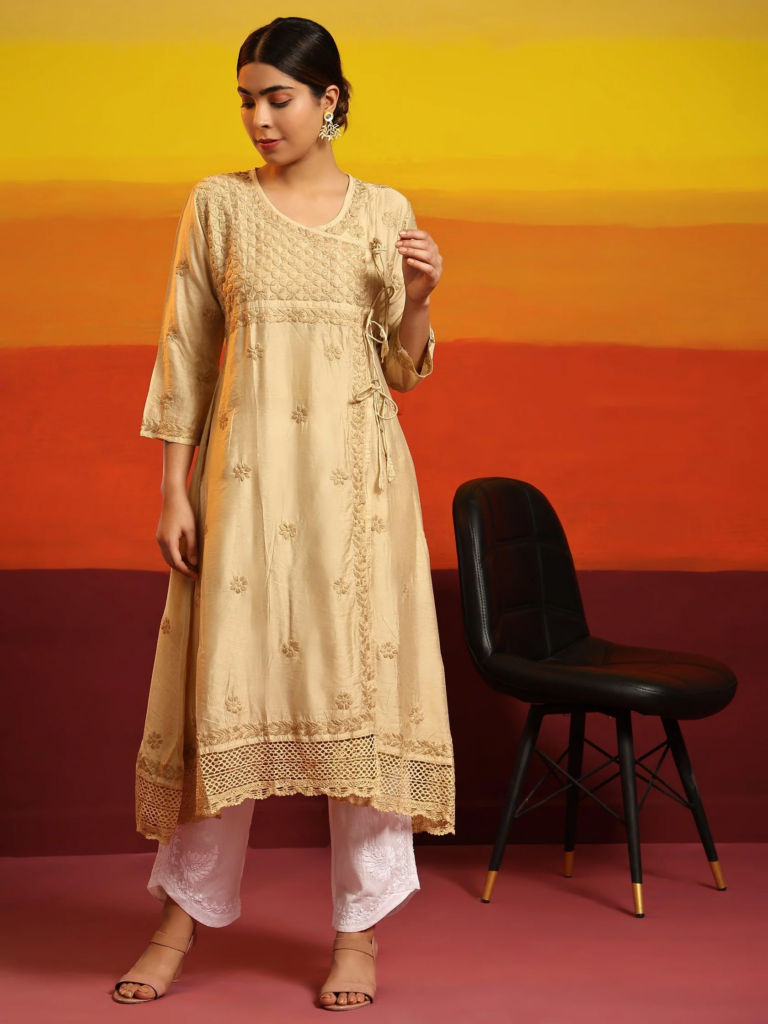 Chikankari Dresses: A Gift of Grace for Sisters:
Sisters deserve to feel like royalty on Rakhi, and a Chikankari Short dress accomplishes just that. Each piece is a work of art, adorned with delicate motifs that exude grace and femininity. Imagine your sister's joy as she drapes herself in a Chikankari dress, a reminder of the sibling love that is as intricate as the embroidery itself.
Co-ord Sets: A Sibling Symphony in Style:
For a unique Rakhi gifting experience, explore Chikankari co-ord sets. Just as siblings complement each other, these sets consist of matching pieces that harmonize perfectly. This Rakhi, celebrate your bond by gifting a co-ord set that mirrors the synergy you share.
Chikankari Casual Kurtas: Radiate Joy on Rakhi:
The Rakhi festivities often call for something special, and a Chikankari Casual wear is just the answer. With its intricate designs and elegant appeal, this kurta adds a dash of glamour to the celebrations. As your sibling adorns this outfit, they'll carry not just style but also your affection with them.
A Gesture Beyond Words: Rakhi Special Chikankari Gifts:
The beauty of Rakhi gifting lies in the emotions it conveys. A Rakhi special Chikankari outfit goes beyond words, echoing your love and care in every stitch. These handcrafted pieces are a reflection of your thoughtfulness, each thread representing a memory shared with your sibling.
Chikankari and Rakhi: A Bond Woven in Threads:
As you celebrate Rakhi this year, let the art of Chikankari symbolize the bond you share with your sibling. Just as each Chikankari creation weaves together threads, your relationship is a tapestry of shared moments, laughter, and support. Gift a Chikankari outfit from House Of Kari and celebrate the beautiful connection that only siblings understand.
Conclusion:
In the tapestry of life, siblings are the most vibrant threads, adding color and depth to our journey. This Rakhi, as you embark on the tradition of gifting, consider Chikankari outfits from House Of Kari. These hand-embroidered wonders are more than just garments; they are a celebration of love, tradition, and the shared stories that make your bond unique.
Choose Chikankari, choose elegance, choose House Of Kari – because Rakhi isn't just a day; it's a memory in the making, woven in threads of love and Chikankari artistry.
Explore House Of Kari's exquisite collection and weave unforgettable memories this Rakhi with Chikankari gifts that radiate love.